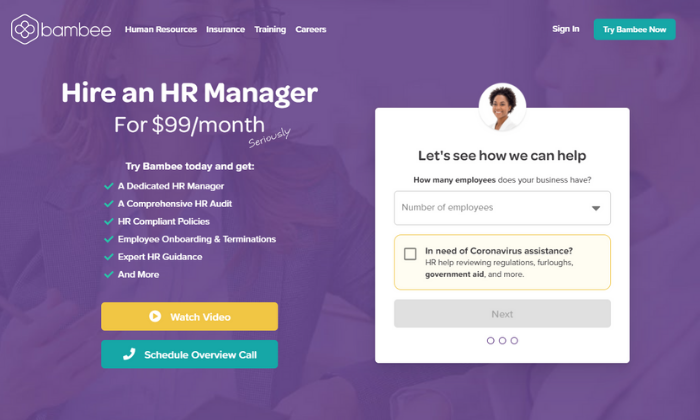 Disclosure: This content is reader-supported, which means if you click on some of our links that we may earn a commission.
There's a reason people spend their entire lives learning the ins and outs of human resources—there's a lot to it.
But the good news is that nobody expects you to know it all and you don't have to navigate it alone.
The best HR outsourcing services exist to make your life easier. You'll be able to deliver a better experience for your employees with less time and frustration on your end.
However, there are a ton of service providers on the market. How do you decide which one's right for you when they all appear to be exactly the same?
To help answer that question, I looked at countless options and narrowed it down to my top six recommendations. And by the end of this guide, you'll know everything you need to know to make the right choice for your business.
#1 – Insperity Review — The Best for Outsourcing All Your HR Responsibilities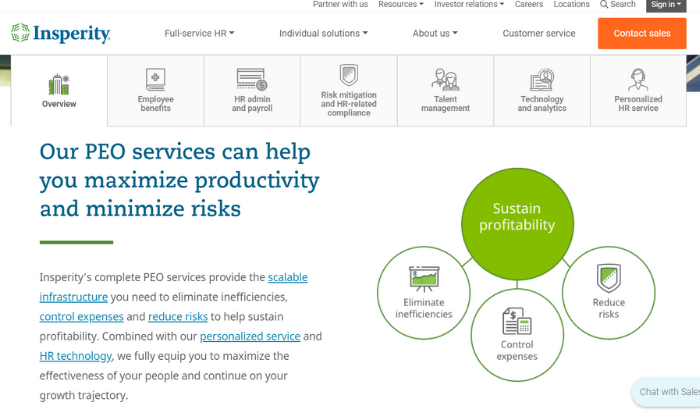 I highly recommend Insperity if you want to go the PEO route, or you are looking to offload as much of your HR workload as possible.
This is a great option for companies of any size. Insperity offers PEO arrangements to companies of 150 people or more.
If you have less than that, you can still outsource the entirety of your HR workload to Insperity, it will just happen under a traditional HRO arrangement.
This is best for people who want a "set it and forget it," type relationship with outsourcing. You'll still have to coordinate with Insperity, but all of the heavy lifting, repetitive work, and regulatory stress is off your plate.
It's overkill if you just want to outsource a few HR tasks. Their payroll service, for example, is bundled with a human capital management (HCM) software designed to work across your company. You don't need (or want to pay for) all this infrastructure if you are just looking to cut checks for your employees.
If, on the other hand, you want full-service HR outsourcing, Insperity makes managing everything as simple as possible. Everything is integrated, easy to scale, and effortless to monitor.
Piggy-backing on Insperity's high quality infrastructure, you don't need to build out any of your own. And the company can provide a wide range of services, as the following is only a selection:
Accounting & bookkeepingExpense reportingHR consultingInsurance servicesOrganizational chartingPayroll and HCMPerformance reviewsRecruitingRetirementTime clock & scheduling
It's the full scope of every service and technology that a company needs in order to manage HR operations. Integration between time clock & scheduling, payroll, and retirement means fewer mistakes with minimal data entry–for employees and managers.
On top of that, Insperity is right alongside you, every step of the way. If there are changes to laws or regulations that are going to impact your company, you'll receive proactive notifications alerting you to the potential issue long before it spirals into a penalty.
Really, Insperity does a lot to support your company. When you reach out, you're talking to an agent who has more than 10 years of experience on average. You can quickly find a specialist in any area of law, safety, or compliance. During business hours, the average service time is less than 2 hours.
You'll have to get in touch with Insperity for pricing, and they will put together a custom package of services to meet your HR goals. The plans for full-service HR outsourcing (5-150 employees) or PEO services (150-5,000 employees). Entering into a PEO arrangement requires a two year agreement.
Insperity is best-in-class if you want to outsource HR entirely. You can focus on growing your company and let Insperity handle the whole backend.
People who want a few services should look at Gusto, ADP, or potentially Bambee, if they need the HR guidance more than services per se.
But if you are looking to get HR taken care of, call Insperity today.
#2 – ADP Review — The Best for Outsourcing HR Piece-By-Piece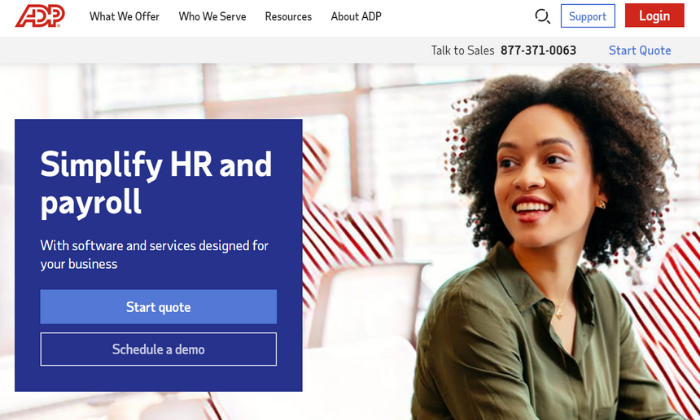 ADP is one of the best options for companies that need some HR outsourced now and likely need additional services in the future.
The company does offer PEO and full-service arrangements, but it's not mandatory. You can select from their service offerings a la carte, get exactly what you need, and never have to enter into an enterprise-grade business arrangement.
Eliminate your specific HR dilemmas and bottlenecks right now. Add services as need be. Scale your company with one of the most trusted names in payroll and HR. ADP can take virtually any task off your plate, including:
BenefitsHR ConsultingPayrollRecruitingRetirementTime & AttendanceWorkforce Management
You can get end-to-end coverage for these services, outsourcing every HR task from recruitment to retirement. Or you can use ADP to get relief from essential administrative tasks in any of these areas.
Maybe you just need a fast, dependable way to pay employees now. In a few months, when you're hiring more, you can outsource some of the recruiting and onboarding to deliver a professional experience for new hires. As time goes by you can add a benefits package to attract even better talent.
ADP can help you get there at your own pace. You don't have to go all-in on HR or enter into a PEO relationship before you are ready.
In other words, you don't have to change the way you work to solve HR. ADP's software has a long list of integrations and an extensive app marketplace. You and your staff won't have to negotiate with dozens of conflicting services to accomplish a simple task.
Your employees and managers will be able to get the help they need on-demand, using ADP's intuitive self-service features. From their desktop or phone, your staff will have the ability to troubleshoot and solve most problems on their own.
Get access to best-in-class services that change with the times. ADP's touchless kiosk uses voice activation and facial recognition to clock employees in safely.
ADP is a long-time player in the HR space, but you don't have to worry about clunky technology. You get an evolving toolkit for the exact challenges you face.
When particularly complex or annoying questions pop up, you can reach out to ADP 24/7. This puts people in touch with specialists who handle HR questions all day. They can help you understand the challenges you face and forecast the roadblocks ahead.
It's all about what you want. It could help with risk management or setting up worker's compensation insurance. You can build around your in-house HR staff (or person) and use ADP to reduce busywork and complexity. Or you can have them completely handle payroll and benefits administration.
How can ADP make your life easier? Get in touch for a custom plan today.
#3 – Paychex Review — The Best for Businesses with Frustrating Regulations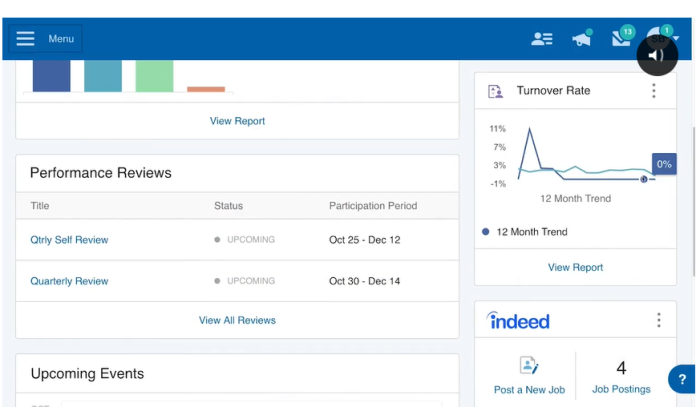 Restaurants, freight companies, law firms, and other businesses have reporting requirements that can throw a wrench in HR. Calculating tips, mileage, and billable hours isn't always easy with off-the-shelf payroll and HR software.
Paychex has been around for decades. The company has evolved its software to meet the challenges businesses face in any industry. It doesn't matter whether you have one or one thousand employees, Paychex delivers a platform that fits your niche needs and gives you total visibility.
The reporting features are very good. You're not going to be blindsided by issues because it's easy to visualize the big picture and drill down into the specifics.
Anything you need to monitor is easy to find.The Paychex platform isn't quite as simple and clean as Gusto's, but you'll find that it can be configured to suit the most complex payroll, benefits, and workplace safety regulations.
The other factor that makes Paychex so good is the customer service. You are getting unrivaled availability with chat and phone service available 24/7/365.
That's important, but where Paychex really steps away from similar offerings is the dedicated HR service representative.
With other companies, you may get someone who understands your business. Or not. With Paychex, you get a single point of contact. They are going to know your workplace and be able to offer guidance about changing laws and regulations in your area.
When you run into an HR-related roadblock, how long does it take you to resolve the issue completely? With Paychex, it will be a lot quicker than if you're on your own.
Some of the areas where the company can help include:
Benefits AdministrationBusiness Continuity PlanningBusiness InsuranceHiring & OnboardingPayrollRecruitingRetirementTime and Attendance
It's a good option whether you are looking to outsource your HR completely or build around an in-house staff. You can get as much relief from administrative duties and as much strategic guidance as you need.
Pricing is not available online, so you'll need to get in touch with Paychex. Together, you will work out a suite of services that fit your specific industry.
You won't have to build onerous workarounds to accommodate because of their all-in-one HR software. And when issues crop up, you can get in touch with Paychex immediately, day or night.
Move at the speed of your business. Say you need a new insurance policy. Paychex can help you get set up in less than 24 hours.
If you are tired of waiting for a callback or hitting limits with your HR platform, reach out to Paychex today.
#4 – Gusto Review — Best for Companies with Fewer Than 100 Employees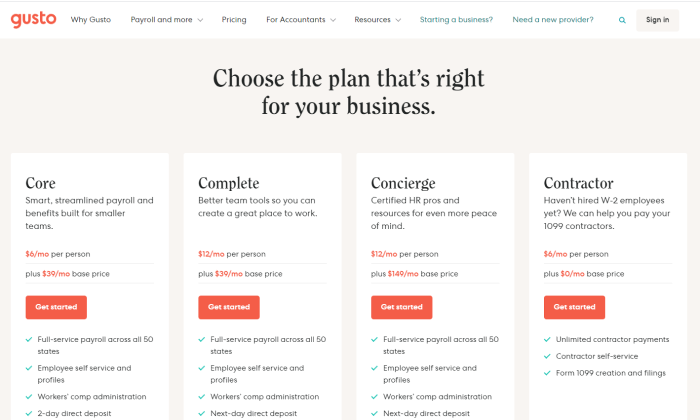 This is my top recommendation for small businesses that need the core HR functions off their plate. Gusto is incredibly easy to set up and effortless to maintain. The platform is clean, simple, and so is the pricing.
Gusto is beloved by employees. It's so far ahead of the rest of the HR outsourcing space in terms of user-friendliness. The automated guidance directs people through the basic tasks and reminds them when something needs to get signed.
Eliminate those back-and-forths filling up your inbox–managers and employees can clearly see the status of everything from their health insurance to next paycheck.
Part of the reason Gusto is so approachable is that it's been pared down to the essential services. Once you hit the 100-employee range, Gusto's sleekness starts to lose ground with more comprehensive solutions.
So Gusto isn't going to handle workforce and human capital management like a full-service HRO, but the company excels at the core functions:
Benefits AdministrationHiring/OnboardingPayrollTime TrackingWorkers Compensation
For a lot of companies, this is all they need. Say you're a startup that's looking to grow. You want to hire top talent, but that means offering benefits, if not a retirement plan. Instead of spending more money on experienced HR managers, get Gusto for a fraction of the price.
With some simple coordination on your end, Gusto can handle the rest.
In that sense, you can think of Gusto as an all-in solution, even though it's much lighter than other tools. If you don't have a huge office, Gusto is going to deliver everything you need in a single package.
As you can tell, you're picking from a pre-arranged suite of services rather than selecting them á la carte.
At the same time, Core comes with everything you need to put payroll, hiring, benefits, and workers compensation on auto-pilot.
It's still very much an all-in solution, but it only works for small teams. If you have a couple dozen people or more, the Complete and Concierge plans come with additional organizational tools for onboarding and HR administration.
Smaller teams don't need customizable onboarding forms or a framework for tracking PTO, but they are invaluable for keeping processes smooth once you've expanded beyond a single group.
The simple pricing remains reasonable, even at the higher tiers:
Core: $39/month base price, $6/month per personComplete: $39/month base price, $12/month per personConcierge: $149/month base price, $12/month per personContractor: No base price, $6/month per person
The Contractor pricing is fantastic. You can bill contractors frequently for no extra charge, and have 1099s ready to go with no work on your end.
This gives small businesses more flexibility to start (and stop) relationships with contractors. It's hassle-free and inexpensive to give people a shot.
Concierge is the only plan that comes with dedicated HR support. Every other plan comes with Gusto's standard customer service, which has an exceptional reputation.
You get unlimited phone, email, and chat support. Your liaison with Gusto (or just you) will likely have a quicker response time than employees, but the self-service portal can handle 99 percent of what they need. The online documentation is great, too, for helping admins solve issues or new employees through the onboarding process.
For remote onboarding, Gusto is really good. There is zero confusion, and you never have to see employee information. They work with Gusto to make sure money is getting deposited in the right place.
There's no workarounds to accommodate a legacy system. Everything is smooth and easy.
Gusto is a tremendous opportunity for new companies to start on the right foot. Established small businesses may find that switching to Gusto makes their lives a lot easier.
Discover why people love Gusto today.
#5 – Bambee Review — Best for Supporting Your In-House HR Team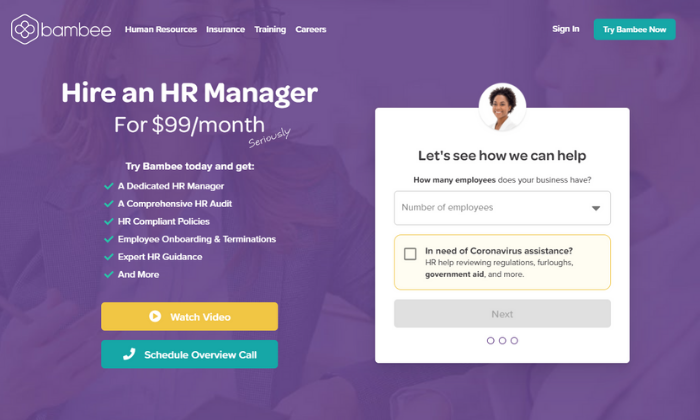 Bambee isn't HR outsourcing in the traditional, "set it and forget it" sense. It's more like HR consulting for small businesses that can't afford (or can't justify) hiring a full-time staff.
Say you and your team already have 80 percent of HR locked down. Payroll, accounting, hiring–it's all going smooth–but every so often you encounter a situation where you wish you had a full HR staff in house.
Bambee is expertise on-demand, for a low monthly fee. They'll help you navigate the 20 percent of HR that complicates your job and causes problems down the line. Consider the company a wellspring of advice and guidance for tricky and unfamiliar challenges.
So you aren't outsourcing your HR as you do with Insperity or another full-service option. Instead, you are getting Bambee's help to set up efficient processes, policies, and with the occasional thorny question.
In the words of Bambee founder and CEO Allan Jones, "Every small business in the country should have access to a human resources professional." This is the essence of what Bambee offers.
The truth is that outsourcing can save money over the long-term, but it's prohibitively expensive for many small businesses. They try to handle HR on their own, and it works until it doesn't.
Jones told TechCrunch. "When I was a kid my dad owned a small minimarket and got sued for wrongful termination and he had to dip into my college education fund."
Like Jones' father, many small businesses that don't have HR expertise available find themselves exposed to significant risks. Are you prepared for a wrongful termination lawsuit? Have you worded all your hiring documents in such a way as to prevent litigation?
With Bambee, you get a dedicated HR manager that you can reach any time you have a question. This is someone who specializes in the problems faced by small companies and can help you stay protected from the various pitfalls of doing business.
And it's not just damage control and troubleshooting. Your manager works closely with you to help you create efficient processes, HR materials, and guide you through the thicket of regulations.
Plans start at $99 per month, or $79 per month with an annual subscription. This comes with unlimited direct chat, phone, and email.
This is a fraction of the price it would cost to build that expertise in house, and much less than traditional outsourcing. It's the perfect solution for companies that only need help with HR intermittently.
The cost of Bambee increases depending on how many employees you have:
The prices listed above are for month-to-month pricing. You can get a discount signing up for a year, but there is no need to sign a contract if you don't want to.
This means Bambee offers a ton of flexibility, whereas other providers lock you into a multi-year deal. You can cancel at any time.
There is a one-time set up fee to be aware of. It starts at $500, and increases for higher tier plans. Still, the low monthly price more than makes up for the initial spend. And Bambee is going to help you establish bulletproof HR policies, which can lead to significant savings in the long run.
Bambee also offers plans for midsize businesses (not pictured) of 100-500 employees. The company only serves companies of 500 people or less
People are very happy with their Bambee representatives and their overall service. Whenever they run into an issue, they have an on-demand resource to call.
If you're tired of getting thrown off by HR curveballs, get in touch with Bambee today. You can eliminate your problems without having to spend big on outsourcing or hiring.
#6 – G&A Partners Review — Best Full-Service HR for SMBs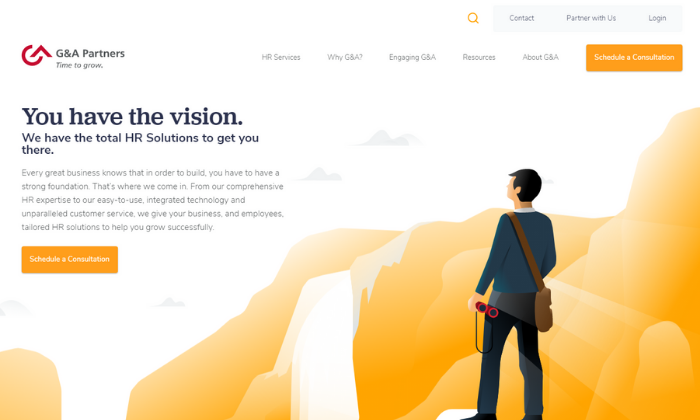 If you worry that some of the lighter HR outsourcing options for SMB aren't going to satisfy the unique challenges faced by your business, G&A Partners is a safe play.
Gusto is fantastic if you just need the core HR functions, but what if you are looking to make HR part of your strategic growth strategy?
Insperity's PEO option is extremely attractive, but you need at least 150 employees to sign up. With G&A, on the other hand, you're good to go as long as you have more than five.
Imagine being a single location retailer who's able to offer their employees a benefits package? Not only that, but they are choosing from insurance plans from the best carriers.
Everything is managed with G&A's WorkSight technology platform, which can be customized to fit your exact situation. Some of the areas G&A will help you take care of include:
HR consultingHR managementHealth insurance & benefitsOnline learningPayroll administrationRecruiting & onboardingTime & AttendanceWorkplace safety
It's more than just streamlining HR and getting it off your plate. With G&A, you are able to offer your employees a best-in-class experience. And your business is going to get discounts on high-quality health and retirement plans.
Attract top talent and keep your best employees by having G&A work with you to strengthen your business. You'll be able to develop paperwork that protects you from litigation and follow a long-term strategy that increases salaries and increases your bottom line.
Along with customized HR software, G&A provides a direct line to a dedicated Client Advocate. This means fast response times from someone who actually knows your business.
You have to make contact with G&A to get a price on a custom plan. Depending on your needs, you can set the arrangement up as a PEO or ASO arrangement.
The ASO arrangement can be full-service, or you can choose services á la carte. I would go with G&A as a full-service ASO or PEO. The benefits of using their end-to-end platform are dulled if you just use a few services.
G&A opens doors for SMBs in a way outsourcing cannot. It's an excellent option for small businesses looking to do more than just outsource HR. Get in touch today.
What I Looked at to Find the Best HR Outsourcing Service
If you are used to handling HR yourself or in-house, you may have toyed with the idea of passing these responsibilities off.
But outsourcing your payroll is different than finding someone to plow your parking lot. There's a lot that goes into this relationship that takes it beyond the typical client contractor set up.
It can be hard to distinguish between your options, especially if this is your first time looking to outsource HR. At first blush, these companies seem to overlap quite a bit in terms of what they provide.
To keep your options clearly defined, follow this simple methodology to make sure you're asking the right questions in the right order.
Building In-House vs Outsourcing Responsibility
Are you planning on keeping HR staff in-house or trying to avoid hiring them in the first place?
Figuring out where you are on this spectrum will help you hone in on the type provider you want to work with. You are going to see three types of HR outsourcing arrangements:
PEO (Professional Employer Organization) A PEO becomes the employer of record for your company, absorbing the responsibility and liability. In this sense, a PEO becomes a "co-employer" and completely handles HR for your company.HRO (Human Resources Organization) An HRO doesn't involve a transfer in liability or tax ID. You are still the employer of record, but the provider takes over the backend HR legwork.ASO (Administrative Services Provider) An ASO doesn't involve transfer of liability. You are still the employer of record, but the provider takes over backend administrative work. They might handle benefits administration and health insurance, but ASOs do not always offer the full range of HR services, such as consulting or recruiting.
Today, there's a lot of overlap between HRO/ASO. Both categories have expanded to offer services that were traditionally separate. Paychex, for example, used to handle payroll only, whereas now they can help you hire, fire, and insure your employees.
The dividing line between those two options and PEO is still very clear. You won't have to worry about tax law or compliance at all, but you do lose some control and flexibility.
For example your provider will determine what insurance plans your employees can choose, and you may be subject to regulations for larger businesses now that you are part of the PEO.
The flipside is that, as a larger employer, your PEO is going to be able to get much better rates on workers compensation insurance. You'll also have access to employee retirement plans that would normally be off-limits to smaller businesses.
With HROs and ASOs, HR outsourcing is more like a client/contractor relationship. You pass off specific services to the provider, though you remain the employer of record.
Insperity, ADP, Paychex, and G&A Partners offer both types of arrangements. Gusto and Bambee function as HROs only.
Service Selection
Once you know which arrangement you want, it's time to hone in on a provider who can handle your specific HR workload.
If you're looking to offload HR responsibility and liability entirely, any of the PEO or full-service HR providers I recommend will be able to handle anything you throw at them.
Of course, if you need some speciality service, it's best to find a provider with experience. But most people wouldn't have to worry about having to switch providers in order to get a certain task handled.
Companies that want to develop HR in-house while outsourcing a few tasks need to be a little more careful. Are you getting the ability to pick and choose services, or selecting from a package deal?
ADP and Paychex are a great place to start your search if you are looking to be selective. You pick and choose the services you need à la carte. After you get in touch, these companies will create a customized package to fit your needs.
You might find what you need with one of the "off-the-shelf" HR outsourcing packages from a company like Gusto. This bundles a bunch of common HR services at a lower price than you could get purchasing them individually.
So you get a better deal, but less flexibility to choose the exact services you want.
Support When You Need It
If you're keeping a lot of your HR in-house, you may only need support every once in a while. Once everything is up and running, a quick monthly chat and then a little heavier collaboration come tax time might just do the trick.
Say you go the full-service route–you better be dead sure that you can get someone on the line as soon as possible. Otherwise all the complex stuff you thought you were outsourcing is going to blow back on you.
The options I've picked are highly reviewed and have a dependable track record. But you still have to do your own digging.
During the onboarding process, submit enough tickets to see what their customer service is really like. If you're struggling to get an answer at that point, it's only going to get worse from there.
So if you are going for one of the all-in solutions, I'd pay very close attention to the support quality. For the most part, companies that are keeping more HR resources in house just need predictable responses during service hours to get by.
Employee Services Make People Happy
If employees can't just walk down the hall to HR because it's been outsourced, they need to be able to get answers without a hassle.
An employee who onboards easily and gets paid on-time is going to have a much different impression of their workplace than someone who struggles getting set up and has the wrong deduction on their first paycheck.
Show people you have your act together. Make things as easy on employees as possible. They can focus on their work instead of waiting for a password reset they didn't ask for.
Employees should feel confident using the self-service portal. It doesn't have to be fancy, just a simple site where they can view W2's, schedule paid time off, check their benefits, and so on.
A mobile app is definitely a plus from an employee perspective. Especially if it works as well as the desktop version.
And here's the thing, all the convenience of employee-service means less work for their managers. No tracking down paperwork, ever. It's a true win/win.
As you're browsing, dig into the support documentation a little bit. Is it clear? Is it enough to help an employee switch their tax status when they get married, for example?
The more people can solve on their own, the better for everyone.
Summary
Insperity is my top recommendation for people who are looking to outsource HR entirely. It's incredibly flexible with the ability to handle businesses of all shapes and sizes. Plus, they offer a wide range of services to help make your life easier.
But that doesn't mean they're right for everyone. You may find that one of my other top picks is going to work a lot better for you. Here's a recap of my recommendations:
Insperity – Best for outsourcing all your HR responsibilitiesADP – Best for outsourcing HR piece-by-piecePaychex – Best for businesses with frustrating regulationsGusto – Best for companies with fewer than 100 employeesBambee – Best for supporting your in-house HR teamG&A Partners – Best full-service HR for SMBs
If you read the reviews, you should have a fairly clear picture of which options are going to work. As I said, these providers offer very different ways of taking your HR stress away.
And if you are having trouble making a decision, follow the links and reach out to the provider directly. The first time you make contact will tell you a lot about the quality of service you're going to get.
How do you handle human resources at your company?
Read more: neilpatel.com